---
<!IMG SRC="images/jjsz28_ft.gif">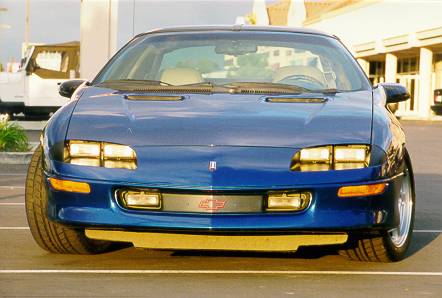 This is my 1997 Medium Quasar Blue Camaro Z28
I've been waiting since May 1994 to get this car. Once I got out of grad school in May 1996 I planned to save / pay off my college loans for 6 months or so and then order my 1997 Z28 sometime in late December 1996. By September I knew exactly what I wanted to order. The only things I was still undecided on were cloth vs. leather interior and the color. I'd always planned on ordering a black Z28 but then began to re-consider when I began to seriously consider the consequences of owning a black car (keeping it clean and the high visibility of micro-scratches in the clear-coat). After much debate I decided that as much as I loved the looks of a black car, realistically I wouldn't be able to give it the frequent washing it would require. I also really liked the blue color, so the choice was made - I would order a blue Z28.
However, on 11/4/96 Chevy threw a monkey-wrench into my plans when they announced that they were discontinuing Medium Quasar Blue for the remained of the 1997 model year. It was too late to order one as even people with outstanding orders were told to pick another color if their car hadn't been built yet.
Now I had to make a decision: Should I try to find a blue 6-speed Z28 on a dealer lot somewhere or should I pick another color and continue with my original plan to order my Z28 in late December? I made an effort to locate a blue 6-speed by visiting most of the local Chevy dealers with no luck; dealer searches turned up nothing. The fact that blue was a rare color and the fact that 6-speed transmissions were rarely ordered by dealers didn't make things any easier.
It now appeared that I would have to order another color. I also now realized just how much I liked that blue and how much I didn't really want any other color. I made one last effort to find a blue 6-speed Z28 and by chance my salesman (Frank Bent of Talarico Chevrolet in Milford, NH) found one that had just arrived at a dealer in New York! We made the deal, the dealer swap took place, and I got a car that was almost an exact match for what I would've ordered! Here's what my car has for options from the factory:


Option Code
Description
1SJ
Preferred Equipment Group II - Cruise Control, Foglights, Power Door
Locks, Power Windows, Power Mirrors, Remote Keyless Entry, Alarm
AG1
6-way Power Driver's Seat
C49
Rear Window Defroster
B35
Carpeted Rear Floor Mats
B84
Bodyside Moldings
AR9
Leather Bucket Seats
QFZ
245/50ZR16 Goodyear Eagle RS-A tires
UN0
200-watt AM/FM Stereo w/ CD Player
MN6
6-speed Manual Transmission
CC1
T-Tops
NG1
MA/CA/NY emissions
For those interested, here's what my car's build sheet looks like.

Blazingly fast acceleration on 93/94 octane fuel (600HP with a supercharged 383ci / 6.3liter engine)
Tight/crisp handling
Respectable highway fuel economy (20+ mpg)

| | |
| --- | --- |
| | What kind of F-Body owner would I be if I didn't modify my car? |
| | Where you can find me racing my car |
| | All of my drag-racing timeslips |
| | Results from my chassis-dyno testing |
| | Fitting 315 tires with 17x11 wheels |
| | More pictures of my car |
---

Back
---

Last updated: 2/10/98